More than 75 million people speak Turkish, most of them in the Republic of Turkey, where Turkish is the official language. Turkish is also spoken by many living in areas that had been governed by the Ottoman Empire, such as in the Balkans, Cyprus, and areas of the Middle East.
Turkish is an important minority language in many European countries, especially Germany, where Turkish "guest workers" have been contributing to the German economy and enriching German culture and cuisine since the 1970s. Turkish communities, think tanks, business associations, and cultural organizations are an important part of cultural and political life in the United States.
Many students study Turkish in order to communicate with Turkish speakers, to travel in Turkey, and to accomplish various types of academic study of the Republic of Turkey, which is a strategic partner of the West, a NATO member, a fascinating center of deep-rooted and diverse culture, a significant regional power, and a legitimate contender for the title of "Bridge between East and West."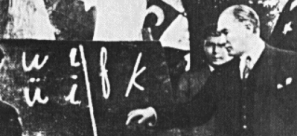 Modern Turkish, written since 1928 in the Latin script (like English), is also an excellent language to study in preparation for working with Ottoman Turkish documents. It is also helpful as background for the study of the related Turkic languages of Azerbaijani, Gagauz, Kazakh, Kyrgyz, Tatar, Turkmen, Uyghur, and Uzbek. Because of features such as "vowel harmony" and "agglutination" and its regular grammar with a logic unrelated to Indo-European and Semitic languages, Turkish is also a favorite of scholars in the field of linguistics.
Because of the long-standing commitment to a minimum of three full years of language courses, along with the availability of a range of courses about Ottoman history and modern Turkish politics, history, security issues, and culture, Georgetown has one of the strongest Turkish programs in the U.S. Students who pursue the minor in Turkish from Georgetown will have a strong background in the language, culture, and regional affairs of a major power connected to the Middle East, Europe, and Central Asia.
Turkish in the Faculty of Languages and Linguistics, Georgetown University College of Arts & Sciences
The Faculty of Language and Linguistics has long prided itself in the breadth and depth of language offerings provided to Georgetown and consortium students. Turkish has three language levels offered each academic year, starting each fall for a yearlong sequence. Turkish is taught with intensive courses at the beginning level (12 credits in one academic year) and non-intensive courses at the intermediate and advanced levels. Depending upon funding, there are advanced content courses in Turkish. The strong Turkish language offerings are complemented by diverse courses relevant to the region taught in English across the university.
National Status in Less Commonly Taught Languages
Georgetown University is one of the only universities in the nation that has been able to offer three levels of Turkish, consistently, year in and year out. This makes us an attractive choice for undergraduates and graduate students who want to be sure of getting a full spectrum of language classes without interruption. Since the inception of the U.S. Department of State's National Security Language Initiative for Youth (NSLI-Y), in 2006, which allowed high school students to study for a year in Turkey, we have been attracting motivated seniors who want to be sure that they can continue to study Turkish in college.
U.S. Department of Education Fulbright-Hays Group Projects Abroad
Since 2013, Georgetown professor Dr. Sylvia Wing Önder has been Project Director for the ARIT-BU Summer Fellowships for Advanced Turkish. This program takes the most advanced from the applicant pool of undergraduates, graduate students, and faculty (who must be US citizens or Permanent Residents) to the intensive and excellent Turkish Language and Culture Program at Boğaziçi University in Istanbul, Turkey, for a fully-funded 8-week summer program.
The American Research Institute in Turkey (ARIT)
Georgetown in an institutional member of ARIT, which is a non-profit educational institution dedicated to promoting North American and Turkish research and exchanges related to Turkey in all fields of the humanities and social sciences. ARIT provides support for these aims by maintaining research centers and libraries in Istanbul and Ankara, and administering fellowship programs to support research in Turkey at doctoral and advanced research levels.
The American Association of Teachers of Turkic Languages (AATT)
The Turkish language faculty are members of AATT and support programs such as panels, workshops, and the annual AATT conference. Georgetown hosted the first AATT graduate student pre-conference in 2005, established to mark the 20th anniversary of the founding of AATT, taking place immediately before a MESA or CESS annual conference. It is designed to encourage research making significant use of sources in Turkish or other Turkic languages by graduate students in a range of disciplines enrolled at institutions in North America. It promotes contact between students at various institutions and allows for feedback from faculty discussants participating in the pre-conference. Another goal is to help students progress towards more formal presentations at national conferences such as those of MESA, CESS, and organizations devoted to specific disciplines.
The Ottoman and Turkish Studies Association (OTSA)
The Ottoman and Turkish Studies Association, founded and incorporated as the Turkish Studies Association in 1971, is a private, non-profit, non-political organization of persons interested in Turkish and Ottoman studies. The objectives of the Association are to promote high standards of scholarship and instruction; to facilitate communication among its members through meetings and written exchanges of information; and to promote international, scholarly cooperation among persons and organizations concerned with Turkish and Ottoman studies.